Stories this photo appears in: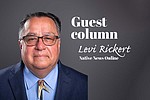 Hollywood may be gleeful about the long lines to see Oppenheimer, but Navajo Nation President Buu Nygren still thinks Hollywood comes short on reporting on the devastation uranium mining and nuclear testing caused to the country's largest Indian reservation.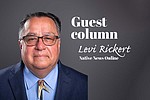 On June 8, Indian Country loudly applauded the 7-2 U.S. Supreme Court's ruling in the Brackeen v. Haaland that upheld the constitutionality of the Indian Child Welfare Act. Then last Thursday happened. The Supreme Court — the same one that seemed to exhibit a basic understanding of tribal sovereignty in the Brackeen ruling — showed how little the high court justices know (or care) about our rights as sovereign nations in their ruling in Arizona, et al. v. Navajo Nation.