Dr. Zachary P. Stamile was a physician at Tuba City Regional Health Care Corporation. His family is sharing his story to help others seek help with depression. (Photo/TCRHC)
Stories this photo appears in: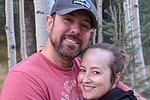 Emergency room physician Dr. Zachary P. Stamile never gave a hint he needed help, remember his wife, family, and close friends. His closest associates were all doctors, and he came from a family of dedicated medical professionals.