Adjunct history professor and research associate Larry Larrichio holds a copy of a late 19th century photograph of pupils at an Indigenous boarding school in Santa Fe during an interview in Albuquerque, New Mexico. The U.S. Interior Department released a report May 11, that uncovers the truth about the federal government's past oversight of Native American boarding schools. (AP Photo/Susan Montoya Bryan, File)
Stories this photo appears in: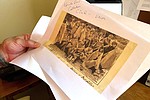 A first-of-its-kind federal study of Native American boarding schools that for over a century sought to assimilate Indigenous children into white society has identified more than 400 such schools that were supported by the U.S. government and more than 50 associated burial sites, a figure that could grow exponentially as research continues.
By Felicia Fonseca, Associated Press
May 17, 2022