Dr. Joseph Ballinger giving Marjorie Hill, a nurse at Montefiore Hospital in New York, the first Asian flu vaccine shot to be administered in New York on Aug. 16, 1957. (AP Photo/File)
Stories this photo appears in: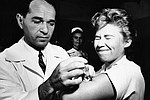 The ends of epidemics are not as thoroughly researched as their beginnings. But there are recurring themes that could offer lessons for the months ahead.
By By Mike Stobbe, AP Medical Writer
March 10, 2022