Pinyon Plain Mine, formerly known as Canyon Mine, uses water cannons to evaporate water from its holding pond near the mine shaft. A federal court ruled Feb. 22 that the mine could continue operations at their location approximately six miles from Grand Canyon National Park. (Submitted photo)
Stories this photo appears in: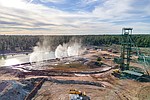 GRAND CANYON, Ariz. — The newly designated Baaj Nwaavjo I'tah Kukveni Grand Canyon National Monument in northern Arizona does not prohibit mining as touted. Rather, all valid existing rights to minerals within the monument, including uranium, will be preserved, White House officials told Bloomberg.