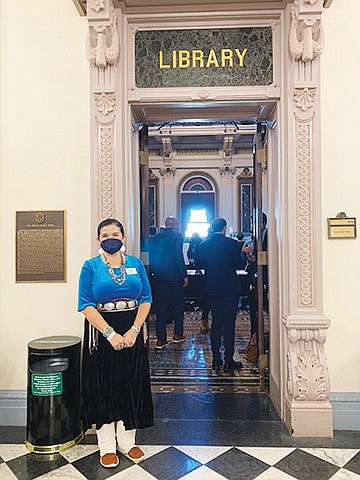 Relief Fund Founder and Executive Director Ethel Branch represented the organization at the White House Summit on COVID-19 Equity. Branch presented a poster that detailed the conditions, methods, services delivered, and lessons learned based on the organization's delivery of direct relief to Navajo and Hopi communities during the pandemic. (Photos/TYee Ha'ólníi Doo)
Stories this photo appears in:
Ethel Branch has been appointed by President Buu Nygren as the 13th Attorney General of the Navajo Nation.
By Navajo Nation Department of Justice, Office of the Attorney General.
January 31, 2023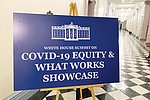 The Navajo & Hopi Families COVID-19 Relief Fund was given an opportunity to share the impact of the coronavirus pandemic on the Navajo Nation at a special event in Washington Nov. 16. The COVID-19 Equity & What Works Showcase featured organizations that provided direct relief during the pandemic and the methods they used to achieve equity.