Interior Secretary Deb Haaland waves after speaking to a crowd during a totem pole delivery ceremony by Native American tribal leaders and Indigenous activists, on Capitol Hill in Washington on July 29, 2021. (AP Photo/Jose Luis Magana, File)
Stories this photo appears in: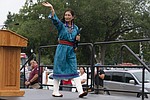 On Jan. 20 and 22, Secretary of the Interior Deb Haaland and Indian Affairs Assistant Secretary Bryan Newland will travel to Phoenix, Arizona and the Navajo Nation for the next two stops on "The Road to Healing,"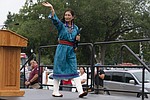 It was a quick trip for U.S. Interior Secretary Deb Haaland with stops to hike through desert scrub near the U.S.-Mexico border and to marvel at the jagged Organ Mountains before soaking in what life was like in one of the oldest settlements along a historic trade route.
By Susan Montoya Bryan and Felicia Fonseca, Associated Press
April 11, 2022