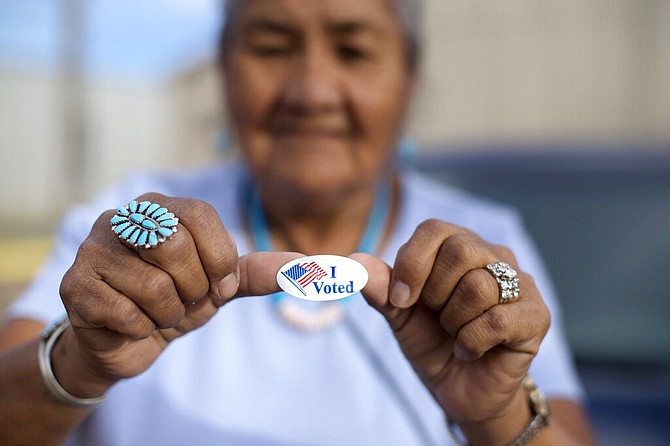 In this Aug. 28, 2018, file photo, Mildred James of Sanders, Arizona, shows off her "I Voted" sticker as she awaits election results in Window Rock, Arizona, on the Navajo Nation. The tribe says bills recently signed into Arizona law would make voting more difficult than it already is on the vast reservation. (AP Photo/Cayla Nimmo, File)
Stories this photo appears in: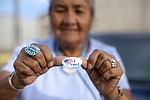 In a lawsuit brought by the Arizona Republican Party, Judge Lee Jantzen of Mohave County Superior Court, ruled June 6 that mail-in balloting is constitutional.
By Tony Hill, Cronkite News
June 21, 2022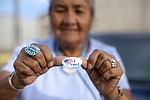 Learn about the Impacts of rural addressing, which impact voter registration, elections and tribal services during the Navajo Voters Coalition Conference June 17.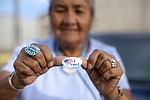 Navajo Nation President Jonathan Nez and Vice President Myron Lizer expressed their disappointment with Arizona Gov. Doug Ducey's recent actions of signing S.B. 1003 and S.B. 1485 into law. These bills work to suppress voters from the state's 22 tribes, including the Navajo Nation.