Tribal councilman Wendsler Nosie, Sr. speaks with Apache activists in a rally in 2015 to save Oak Flat, land near Superior, Arizona, sacred to Western Apache tribes, in front of the U.S. Capitol in Washington. (AP Photo/Molly Riley, File)
Stories this photo appears in: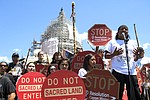 U.S. Rep. Raul Grijalva has introduced a bill to keep the U.S. Forest Service from turning over land in Arizona for a massive copper mine.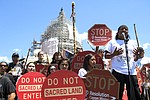 A group of Apaches who have tried for years to reverse a land swap in Arizona that will make way for one of the largest copper mines in the U.S. sued the federal government Jan. 12.
By Felicia Fonseca and Anita Snow, Associated Press
January 26, 2021