Relatives and tribal members throw dirt into the graves of the Rosebud Sioux children, at a funeral 142 years after their deaths, at the Rosebud Sioux Tribe Veterans Cemetery in White River, Soiut Dakota. (Erin Bormett/The Argus Leader via AP, File)
Stories this photo appears in: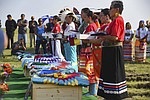 The American Bar Association's policymaking body has voted in favor of a resolution supporting the U.S. Interior Department as it works to uncover the troubled legacy of federal boarding schools that sought to assimilate Indigenous youth into white society.
By Susan Montoya Bryan, Associated Press
August 17, 2021