Navajo Nation residents receive aid on the Navajo Reservation. (Photo/Office of the Navajo Nation President and Vice President)
Stories this photo appears in: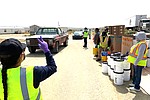 With only three weeks remaining to spend CARES Act funding, which includes the Navajo CARES Act Hardship Assistance Program ends, the Navajo Nation is working fervently to process applications with outstanding issues.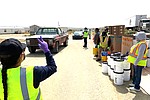 Navajo Nation announces participation in Pfizer-BioTech COVID-19 vaccine trail on a patient-volunteer basis — the study will be led by the John Hopkins Center for American Indian Health.