Contestants for the title of Miss Phoenix Indian School 1978-79 line up in this photo. The school's alumni say events like this show the change in attitude toward the tribal board-ing schools, once students were allowed to showcase tribal culture and tradition that the schools originally tried to stamp out. (Photo courtesy Phoenix Indian School Visitor Center)
Stories this photo appears in: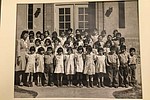 In the early 1930s, Robert Carr, a member of the Creek Nation, was expelled for "incorrigible behavior" from Chilocco Indian Agricultural School near the Kansas-Oklahoma border.
By Calah Schlabach, News 21 with Cronkite News
September 8, 2020