For 50 years, the Kayenta Mine on Black Mesa supplied coal to fire the Navajo Generating Station (NGS) in Page, Arizona. The generating station was closed in 2019, the mine is now being dismantled. (Photo/Peabody Energy)
Stories this photo appears in: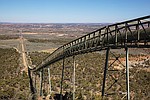 Where once the Black Mesa and Lake Powell Railroad shuttled coal to the Navajo Generating Plant, NavajoYES, a local outdoor recreation group focusing on Indigenous youth, sees an opportunity to increase recreational opportunities for the Navajo Nation.
By Joe Giddons, Navajo-Hopi Observer
October 19, 2021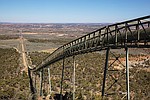 The closure of NGS in 2019, resulted in the loss of about $98 million per year in total wages for Native workers, however, a recently released report said reclamation of the Kayenta Mine could bring back 200 jobs per year for the next two to three years for Navajo and Hopi people.