Virginia Yazzie tends to her horse on her home site in Sanders, Arizona in May 2008. A recent report states that 32 genetically diverse horse breeds have been identified on the Navajo Nation so far. (AP Photo/Felicia Fonseca)
Stories this photo appears in: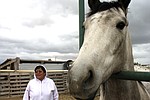 Harvey reported the program has partnered with Texas A&M University and Navajo Technical University to run genetic tests on 100 feral horses from 15 chapters.