The Navajo Nation has issued additional 57-hour weekend lockdowns for the next two weeks. (Photo/Office of the Navajo Nation President)
Stories this photo appears in: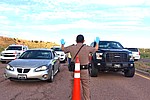 The Navajo Nation reinstated a three-week stay-at-home lockdown from Nov. 16- Dec. 6 for the Navajo Nation as COVID-19 cases spike across the reservation and the country.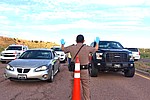 The Navajo Nation will implement a daily curfew during the weekdays from 8 p.m. to 5 a.m. Oct. 2 and will continue 57-hour weekend lockdowns from Oct. 2 at 8 p.m. (MDT) to 5 a.m. (MDT) Oct. 5 because of a rise in COVID-19 cases in many regions on the Navajo Nation.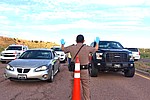 Nez presented data from the Department of Health showing a steady flattening of the curve for COVID-19 cases indicating that the weekend lockdowns, daily curfews, requiring face masks and other precautions are working.