This June 27, 2019 file photo shows Dorothea Gillim, executive producer and co-creator of "Molly of Denali," at the Anchorage Museum in Anchorage, Alaska. "Molly of Denali" is the first cartoon series with an Alaska Native character as the lead. It premiered nationwide on PBS Kids in July. (AP Photo/Mark Thiessen, File)
Stories this photo appears in: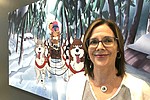 Charitie Ropati remembers sitting in her dorm room at Columbia University.
By Aliyah Chavez, Indian Country Today
January 28, 2020