The Navajo Nation Special Diabetes Program kicked off its annual Running for a Stronger and Healthier Navajo Nation July 8, 2019, in Ramah, New Mexico. The program hosts runs across the Navajo Nation to help promote healthy lifestyles, diabetes prevention and to bring awareness to obesity, cancer and chronic diseases. (Photo/Office of the Navajo Nation President and Vice President)
Stories this photo appears in: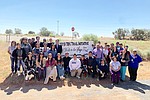 Alex Alejandre lost 75 pounds in a year. His wife, Mary, lost 40. They want to set a good example for their 17-year-old son, Nathan, and take a personal stand against obesity.
By Daniel Gatalica, Cronkite News
January 14, 2020