Aidan Quinn stars in "Spiked," written and directed by Juan Martinez Vera and filmed on location in Arizona. The film tells the story of the murder of a migrant worker, an event that shakes a Southwest border town to its core. (Courtesy photo by Shaun Monahan)
Stories this photo appears in: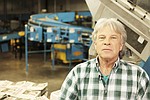 Actor Aidan Quinn will star in a movie partly inspired by the life of local newspaper owner Joseph Soldwedel and his near-death experience while living in the Prescott, Arizona area.