Relatives and friends of murder victims took part in a candlelight vigil at the Navajo Nation Council Chamber Sept. 25 in Window Rock, Arizona. (Photo/Office of the Speaker)
Stories this photo appears in: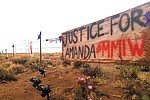 The testimony of families, if they choose, happens at all of MMDR work group meetings as a reminder that the issues the group is tackling are real ones, with real impacts on families and communities across the Navajo Nation.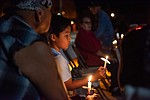 A candlelight vigil for the National Day of Remembrance for Victims of Murder was held at the Navajo Council Chamber Sept. 25 to recognize and honor Navajo relatives lost to violence.