The Butterfly Dance is performed by Hopi dancers at the 2017 Tuuvi Gathering. Dances will be performed at this year's gathering as well. (Loretta Yerian/NHO)
Stories this photo appears in: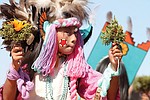 Dancers and vendors from across the Navajo and Hopi nations will come together to celebrated both events and enjoy rides, food and visiting with family and friends.