Council Delegate Kee Allen Begay, Jr. thanks members of the Burnt Corn Valley and Tachee-Blue Gap communities for another infrastructure project. Begay, Jr. said the building will be used as a polling place and gathering spot for meetings and events. (Photo/Office of the Speaker)
Stories this photo appears in: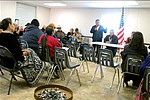 A Pendleton blanket with the Great Seal of the Navajo Nation covered the doorway as Navajo prayers and chants filled the space within.