Around 60 concerned citizens gather at Kayenta Town Hall March 9 for a forum regarding the potential sale of Navajo Generating Station and Peabody Kayenta Coal Mine to the Navajo Transitional Energy Company. NGS and the Kayenta Coal Mine are scheduled to be permanently closed in December. (Photo/Navajo Nation Council via Facebook)
Stories this photo appears in: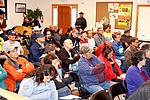 As Navajo Generating Station (NGS) owners move the plant toward decommissioning, Navajo Transitional Energy Company (NTEC) detailed its view of why negotiations stalled in an effort to figure out a way forward.