Navajo Council Speaker Seth Damon thanks Clare P. Weaver (at right) who gifted a copy of the 151-year-old Treaty of 1868 to the Navajo Nation May 29. The document is one of three originals, one of which is at the National Archives. (Office of the Speaker)
Stories this photo appears in: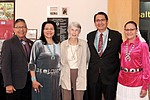 A 150-year-old document that allowed Navajos to return to their homeland in the Four Corners region where Arizona, New Mexico, Utah and Colorado meet is destined for a permanent home at the tribe's museum.
By Felicia Fonseca, Associated Press
June 4, 2019