Tehassi Hill, tribal chairman of the Oneida Nation, stands outside a federal appeals court in New Orleans in March, following arguments on the constitutionality of a 1978 law giving Native American families preference in adoption of Native American children. On Aug. 9, the 5th U.S. Circuit Court of Appeals in New Orleans upheld the constitutionality of the law. (AP Photo/Kevin McGill, File)
Stories this photo appears in: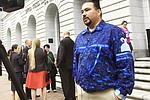 The decision from a three-judge panel the 5th U.S. Circuit Court of Appeal in New Orleans upholds the Indian Child Welfare Act in a lawsuit involving non-Indian families in multiple states who adopted or sought to adopt Native American children.
By Kevin McGill, Associated Press
August 13, 2019