Kimberly Loring, left, touches her forehead to her little sister, Jonnilyn, 17, as she says goodbye before heading out on a search for their missing sister Ashley with their cousin, Lissa, outside their home on the Blackfeet Indian Reservation in Browning, Montana. (AP Photo/David Goldman)
Stories this photo appears in: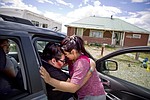 The searchers rummage through the abandoned trailer, flipping over a battered couch, unfurling a stained sheet, looking for clues. It's blistering hot and a grizzly bear lurking in the brush unleashes a menacing growl. But they can't stop. Not when a loved one is still missing.
By By Sharon Cohen Associated Press, National writer
September 11, 2018