The advanced guitar class wil perform at the coffee house at Hopi High School Oct. 17 in the cafeteria. From left: Advanced guitar students Sierra Ramirez, Christina Shupla and Martin Foley. (Stan Bindell/NHO)
Stories this photo appears in: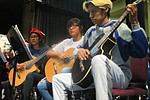 Hopi High music, art, culinary arts and English students will display their skills during a coffee house from 6-8 p.m. Oct. 17 in the school's cafeteria.