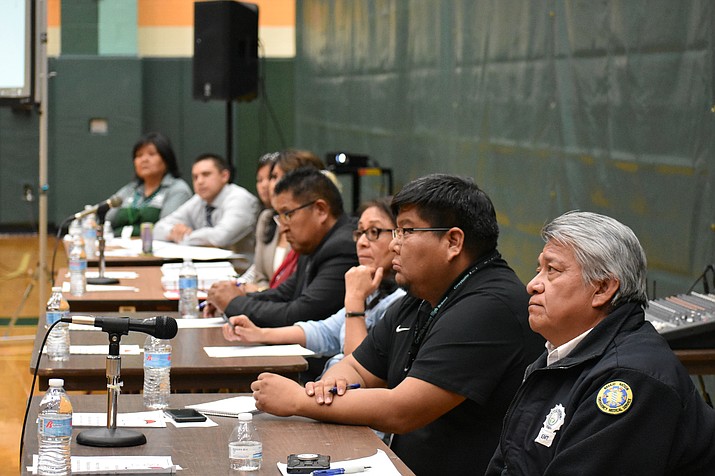 A community meeting at the Tuba City High School Warrior Pavilion was held March 6 to discuss recent gun threat to Tuba City Junior High. School board representatives were present from surrounding Tuba City and surrounding schools as well as law enforcement and community members. From left: Greyhills Academy Dr. Loren Hudson, Navajo Nation Prosecutor Michael Bennett, Navajo Nation Police Lieutenant Leonard Williams, Dine' College-Phyllis Begay, Tuba City Boarding School Principal Medge Windmiller, Tuba City Unified School District Interim Superintendent Sharlene Navaho, Tuba City Chapter President Gerald Keetso, Moencopi Day School representative Sahmie Wytewa, Hopi Chairman Timothy Nuvangyaoma and Mike SixKiller who acted as facilitator and emcee for the event. (Rosanda Suetopka/NHO)
Stories this photo appears in:

Law enforcement, school officials, community discuss how to better prepare school facilities
A capacity crowd turned out March 6 at the Warrior Pavilion in Tuba City to hear from law enforcement and school officials about threats made to Tuba City Junior High and other reservation schools in recent weeks.