Volunteers work to unload hay from Tracy and Buddy McDonald's trailer. (Photo by Laurel Morales/KJZZ)Company)
Stories this photo appears in: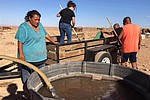 Glenda Seweingyawma plucked quarters from a giant pickle jar and dropped them into the water-station vending machine to fill up a large plastic barrel. It's a common scene: About 40 percent of Navajos living on the reservation have to haul their drinking water.
By Laurel Morales, KJZZ Fronteras
July 10, 2018