Volunteers sell baked goods and other food to raise money in an effort to move Red Sands School to Winslow for the 2017-2018 school year. School Administrator Brian Snyder said he has heard from parents that the current school is too remote for kids to get to school easily. Todd Roth/NHO
Stories this photo appears in: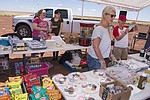 Red Sands Christian School hosted a fair Sept. 16 to help raise funds in the hope of moving the school to Winslow, Arizona.