Earl Patterson, Sr., 94, passed away Oct. 8 in New Mexico. Patterson served in the U.S. Marine Corp as a Navajo Code Talker during WWII. Submitted photo
Stories this photo appears in: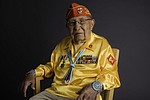 The Navajo Nation mourned the loss of Navajo Code Talker Earl Patterson, Sr., who passed away from pneumonia and complications from subdural hematoma Oct. 8 in Rio Rancho, New Mexico at the age of 94.