Jamie Roe graduated from Tuba City in 2012 and Texas Technical University in 2016. Roe said her experiences and education helped her with her first teaching job at Sharp Academy. Photo/Rosanda Suetopka
Stories this photo appears in: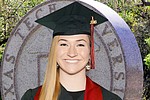 Jamie Roe is making strides in the specialized field of education by working with and teaching students who have dyslexia, ADHD and ADD at Sharp Academy in Texas.