The Navajo Hopi Honor Riders leave the Piestewa House May 18. The group honors Native Americans serving in the military or killed in the line of duty. Ryan Williams/NHO
Stories this photo appears in: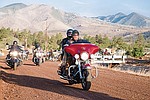 FLAGSTAFF, Ariz. - It was still dark outside with the early morning light barely breaking the nighttime sky. The only sound is a lone motorcycle, which is soon joined by others, rumbling from up the driveway of the Piestewa's family home.