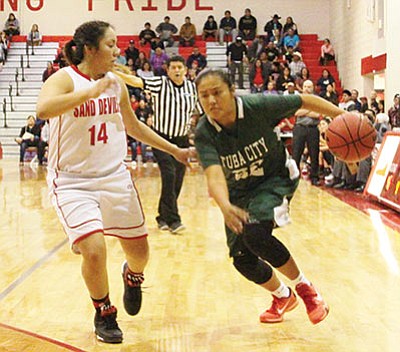 Tuba City Warrior Celisha Meyers (32) attempts to maneuver around Page Sand Devil defender LeLisa Watson (14) Feb. 20 during the Arizona AIA Division III girls' state basketball tournament at Nash Center, in Kayenta, Arizona. Page defeated Tuba City 50-48. Photo/Anton Wero
Stories this photo appears in:
MONUMENT VALLEY, Ariz. - The Page Lady Sand Devils and Chinle Lady Wildcats continue play in the Arizona State Division III Basketball tournament in Glendale, Arizona with wins last weekend.