Mapmaker Aaron Carapella spent six months creating a map with proposed and in-progress pipelines zig-zagging across the United States. Free downloads of the map are available at www.tribalnationsmaps.com. Photo courtesy of Aaron Carapella
Stories this photo appears in: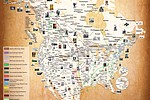 It took mapmaker Aaron Carapella six months to create a map showing pipelines that are in process but not yet completed, many of which border or are on tribal land.