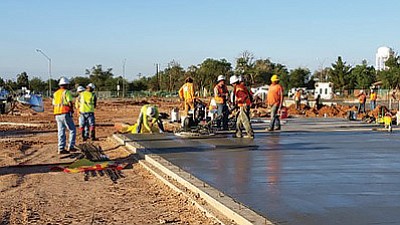 CORE construction workers at the Tuba City District K-5 school construction site in uptown Tuba City work on a concrete slab foundation poured both last week and Aug. 18. Construction started in January. Rosanda Suetopka/NHO
Stories this photo appears in:

TUBA CITY, Ariz. - The first big slab of concrete was poured Aug. 18 at the new Tuba City Unified School District (TCUSD) multi-purpose school among other progress in electrical and underground piping infrastructure.