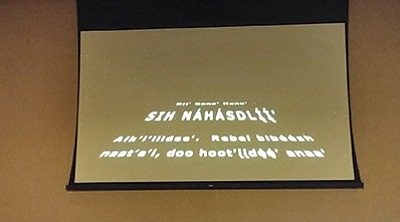 The opening lines of "Star Wars iv: A New Hope" scroll across the screen in Navajo March 29 at a screening of the film held at Twin Arrows Navajo Casino Resort. Photo/Kevin Moriarty
Stories this photo appears in:
Navajo dubbed Star Wars film brings traditional language to new audiences
"Spaceship" isn't a common Navajo word. But actor James June used it a lot while working on a Navajo language version of "Star Wars IV: A New Hope."