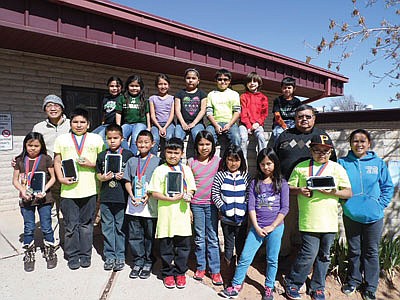 Tuba City School District's Primary School students brought home a number of awards at this year's Navajo Nation Science Fair. Back row from left: Audrey Tallsalt, Miara Bilagody, Aaliyah Daw, Anna Begay, Riley Ignacio, Zachary Song and Oliver Cortes. Front row from left: third grade teacher Pedro Conzaga, Candice Tsosie, Lynn Goldtooth, Presley Parrish, Hyler Peterson, Adriano Phillips, Chelsey Yazzie, Katherine Nez, Maria Macaraig, Wyatt Yazzie, Science Fair Coordinator Phillip McCabe and Science Committee member Vilma Morala. Photo/Rosanda Suetopka
Stories this photo appears in:
TUBA CITY, Ariz. - This year's Navajo Nation Science Fair almost didn't happen. The event was originally slated for mid-February but because of extreme winter weather and difficult road conditions on the way to Gallup, New Mexico's Red Rock State Park the event was moved to a different date.
By Rosanda Suetopka
March 24, 2015