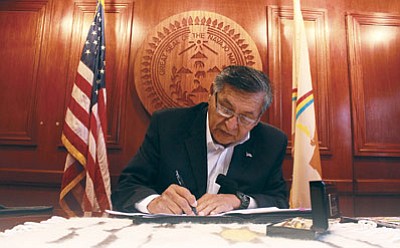 Navajo Nation President Ben Shelly signs legislation March 16 approving a referendum vote on fluency requirements before a general election takes place. Photo/Rick Abasta
Stories this photo appears in: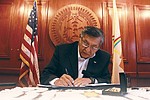 WINDOW ROCK, Ariz. - The timeline for the Navajo Nation presidential election is again in question after the Navajo Nation Council voted 12-8 to hold a public referendum to allow the Navajo people to determine language fluency qualifications for the positions of president and vice president. Navajo Nation President Ben Shelly signed legislation March 16 that approved funding for the public referendum vote.
By Katherine Locke
March 17, 2015