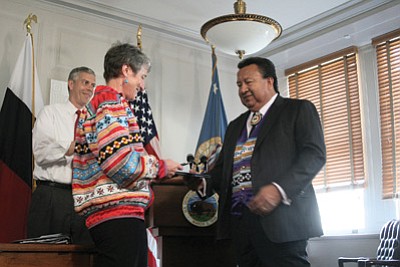 Interior Secretary Sally Jewell presents Miccosukee Chairman Colley Billie with the waiver of No Child Left Behind Act requirements for the Florida tribe's school, the first such agreement with a tribe in the nation. Photo/Aubrey Rumore
Stories this photo appears in:

WASHINGTON - The way Navajo Nation Council Delegate Lee Jack Sr. sees it, "God gave us different ways to speak, God gave us different ways to live."It stands to reason, then, that we should have different ways to teach, he said.