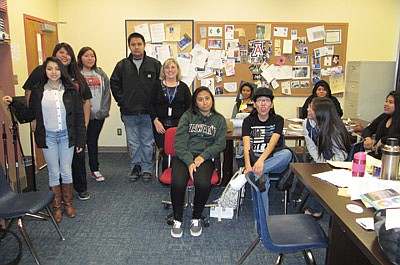 The Hopi High School beginning radio class with Barbara Hawke. Pictured from left: Taminny Laragutierrez, Storm Tso, Kaiya Coin, Raicardo Jim, Barbara Hawke, Jennifer Huma and Reyna Lomayaktewa. Front row from left: Elysse Honyouti, Tasheika Jones and Shauntella Norris. Photo/Stan Bindell
Stories this photo appears in: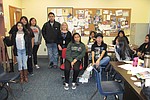 POLACCA, Ariz. - Hopi High School students received a dose of environmental information when Barbara Hawke, executive director of the Arizona Wilderness Coalition (AWC), spoke to media and English classes Jan. 6 at Hopi High School.
By By Stan Bindell
January 20, 2015