A cumulonimbus cloud produces a shaft of rain. Some say Arizona can help address its water challenges by seeding clouds to produce more rain and snow. Photo/University Corporation for Atmospheric Research
Stories this photo appears in: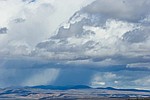 PHOENIX - Of all the potential solutions offered for Arizona's water challenges, one has a decidedly science fiction feel: planes flying over the Rockies, seeding clouds with aerosolized silver iodide to stimulate rain and snow.
By Becky Brisley
April 14, 2015