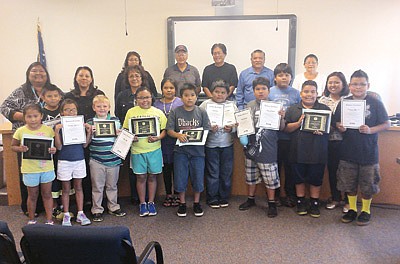 Tuba City Primary earned a B rating from the Arizona Instrument to Measure Standards this year. At a recent Tuba City Unified School District Governing Board meeting, several third grade students were recognized for their outstanding achievement. Back row from left: Governing Board members Judy Begay and Lee Tsinigine, Superintendent Harold G. Begay and Governing Board members Willie LongReed and Mary Worker. Middle Row from left: Principal Sharlene Navaho and primary teachers Ms. Tsinigine, Ms. Holliday, Ms. Mortiz. Students: Lillie Chief, Griffin Yellowman, Nanaabah Yellowman, Allan Hudson, Jacelyn Tallsalt, Mardell Nez, Marie Bilagody, Uriah Salaba, Loren Goldtooth, Raylon Salaba, Robert McCloskey and Nathaniel Fulton, Jr. Photo/Rosanda Suetopka
Stories this photo appears in: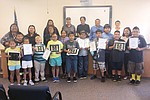 TUBA CITY, Ariz. - Tuba City Primary School moved from a C rating to a B after this year's Arizona Instrument to Measure Standards (AIMS) testing.
By Rosanda Suetopka
October 14, 2014