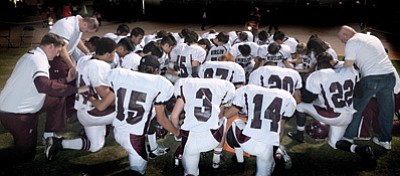 The Winslow Bulldogs football team takes a knee before taking to the field against Seton Catholic Nov. 15. The Bulldogs lost 69-19 in the Division IV State Playoff matchup. Photo/Todd Roth
Stories this photo appears in:
69-19 loss ends season with 8-4 record
CHANDLER, Ariz. - The Winslow Bulldogs saw their season end with a 69-19 loss to the Seton Catholic Sentinels in a Division IV State Playoff game played at Seton Catholic in Chandler Nov. 15.