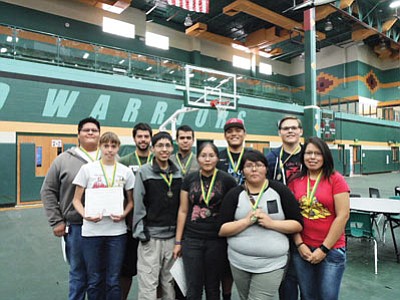 Front row from left: Brianna Loughran, Alexander Nez, Robyn Haskey, Micah Bahe and Titiana Nez. Back row from left: Allen Joe, Wesley Loughran, Isaac Manrique, Tyler Johnson and Joseph Justice. These Tuba City High School graduating seniors have the highest final grade point averages at the school. Each has earned a full scholarship to varied universities. Rosanda Suetopka/NHO
Stories this photo appears in:

TUBA CITY, Ariz. - Tuba City High School recognized the school's top 10 graduating academic achievers at an Academic Awards assembly May 15 in Warrior Pavilion.