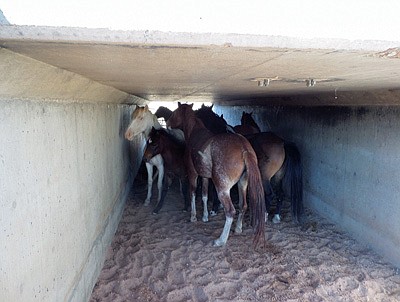 Horses wait in a cement culvert along Highway 160 for a Navajo Nation agriculture horse trailer after a roundup near Kayenta. Submitted photo
Stories this photo appears in: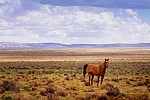 How could the Navajo Nation, which considers the horse sacred, let nearly 200 horses die near Gray Mountain and what is going to be done about it in the future? Who is responsible?
The growing population of feral horses on the Navajo Nation is a problem that cannot be ignored, but it will not be resolved with a horse hunt, Navajo Nation President Russell Begaye said.
WINDOW ROCK - Navajo Nation President Ben Shelly announced that an agreement between the Navajo Nation and the Foundation to Protect New Mexico Wildlife has been completed to fundraise and secure resources for the Navajo Nation to use to start a feral horse management program.
By Navajo-Hopi Observer
May 6, 2014