Did you know that from birth to age 3, children learn and grow at the most intense rate? The early years represent our best chance to help kids develop a strong foundation.
Stories this photo appears in: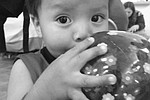 Building an environment that stimulates brain development doesn't have to be complicated or expensive. It can be as simple as reading and playing...
By Cynthia Pardo, FTF Coconino Region
March 20, 2014