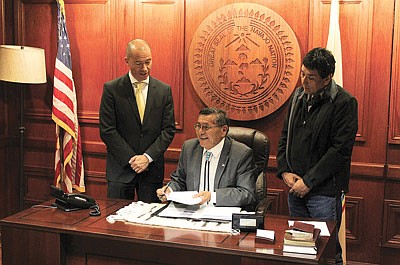 President Ben Shelly signs legislation clearing the way for Navajo Transitional Energy Company to buy Navajo Mine located on the Navajo Nation. Shelly said the future economic stability of the Navajo Nation hinged on its passage. Photo/Rick Abasta
Stories this photo appears in:
On Dec. 30, the Navajo Transitional Energy Company, LLC (NTEC) bought the Navajo Mine, located on the Navajo Nation, from BHP Billiton Limited. NTEC will supply coal to the Four Corners Power Plant through 2031.
By Katherine Locke
January 7, 2014