Diné College signs Tuba City High cross country runner Chelsea Sheppard to a scholarship for fall 2014. From left: Virginia and Nino Sheppard (parents), Chelsea Sheppard, Tuba City cross country head coach Arvis Myron, Diné College Race Director Shaun Martin and Tuba City Athletic Director Jamie Roe. Photo/Rosanda Suetopka Thayer
Stories this photo appears in: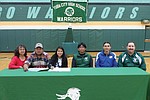 TUBA CITY, Ariz. - Last week Tuba City High School's (TCHS) Chelsea Sheppard, the daughter of Virginia and Nino Sheppard, signed a letter of intent to attend Diné College next fall.
By Rosanda Suetopka Thayer
February 18, 2014