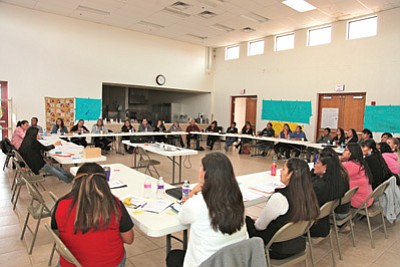 Representatives of the Hopi Department of Education, Guidance Center Programs and Northland Pioneer College, Village Youth Coordinators, Community Service Administrators, elementary school staff, school board members, Hopi Jr./Sr. High School administrators, Hopi Chairman Herman Honanie, youth participants and parents talk about issues affecting Hopi Youth Nov. 13-14 at the Hotevilla Youth and Elder Center. Photo/Stan Bindell
Stories this photo appears in:

Hopi Opportunity Youth Initiative focuses on graduation rates, employment and cultural competency
HOTEVILLA, Ariz. - The Hopi Opportunity Youth Initiative (HOYI) recently formed five working groups to address issues that will help youth on the Hopi Reservation.