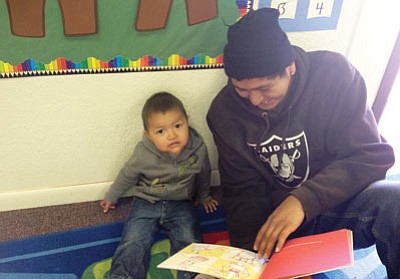 A Hopi father reads to a young boy. The Hopi Lavayi Nest Model Program aims to connect children in Hopi communities to their native language and culture in the critical early years. Submitted photo
Stories this photo appears in:

First Things First and Hopi language specialists to develop new program aimed at connecting young Hopi children to native language in critical early years
What was the first word your baby spoke? Was it mama, papa or was it yuuyu or taata? In many Hopi communities, Hopi is not the first language spoken by children because it is not spoken in the home.